MEDICAL MASK 4 LAYERS
This mask is a personal care medical mask that can effectively block the bacteria and viruses. The mask is divided into 4 layers.
ANTI-MICROBAL ORGANIC BAMBOO – Stops germs, prevents mold.
MEDICAL GRADE PM2.5 MICRON BIO-FILTER – Protects against bacteria & viruses.
ACTIVATED CARBON FILTER – Stops exhaust, smoke, pollen, odours, dust and particulates.
ORGANIC COTTON OUTER LAYER FILTERS – larger dust particulates, looks fashionable.
SPECIFICATION
Quantity: 1/ 5/ 10/ 100BOXS (50pcs/1BOX)
Material: Non-woven
Color: Blue
One size fits most

Wearing it, is not only to protect yourself, but also to protect others, and the people you love!!!
SAFE & BREATHABLE:
Made of specialply non-wovenmaterial, moisture-proof, non-toxic, non-irritating, soft and comfortable
Provide some protection against dust, or some poisonous things
4- LAYER DESIGN:
The outer can effectively block the invasion of bacteria and viruses.
The middle layer is a High density filter layer which can effectively filter non-oily particles in the air.
The inside is a Skin-friendly layer (Direct contact skin layer), and the hot air produced by human breathing can be discharged directly out of the mask, which is dry and comfortable.
PERFECT DESIGN:
The size of the mask is unisex. Fits seamlessly into your face, good skin tolerance and comfortable to wear.
Hypoallergenic, high filtration capacity.
ADJUSTABLE:
The elastic earband is adjustable, and the adjustable steel wire is attached to the bridge of the nose more convenient to use.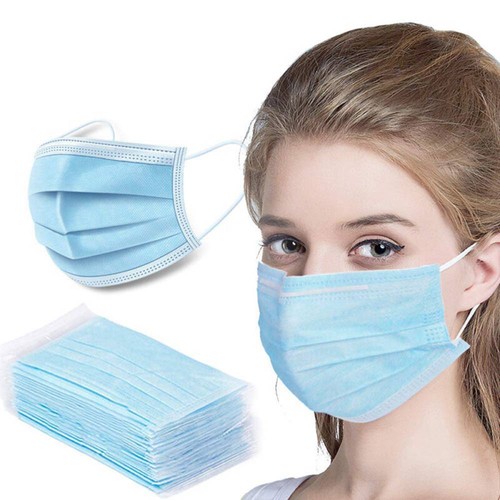 Trademark recognized by Intellectual Property Department
ISO 9001 CERTIFICATE
ISO 9001 (ISO 9001: 2015 – the latest version of ISO 9001), developed and promulgated by the International Organization for Standardization, is a quality management system standard. This standard has a full name is ISO 9001: 2015 – Quality management system – Requirements.
ISO 9001: 2015 sets out the requirements used as a framework for a Quality Management System. This standard is also used for the assessment of conformity certification and conformity certification for an organization's Quality Management System.
ISO 13485 CERTIFICATE
The ISO 13485 standard is developed and developed on the basis of ISO 9000 standard.
The ISO 13485 standard specifies the basic requirements for quality management systems applied in businesses; facility producing medical instruments. Aims to ensure the delivery of products; just meet customer requirements in accordance with the current law.
This International Standard specifies requirements for a quality management system that can be used by an organization when participating in one or more stages of the life cycle of medical devices, including design and development, manufacture, storage and distribution, installation, service provision and decommissioning and final disposal of medical equipment, as well as the design and development or provision of related activities (e.g. support technical assistance)
PRODUCT CERTIFICATE
Certification and Accreditation